With 2013 coming to a close, Online Comment editors James Bennett and Dave Reynolds attempt to round up the major issues that have got us talking this year.We've even let you in on a secret about how we got our jobs in the first place.
SSB Cancelled.
Exeter was rocked by mass media attention surrounding the Safer Sex Ball and The Ram's Not Safe For Work CCTV footage. This led to the cancellation of the iconic event for future years. The decision was met with a great deal of hostility, with people no longer having an acceptable excuse to dance around in their pants in public.  After winning the Sunday Times University of the Year award for 2012, this was not the start to 2013 we were really looking for.
Cocaine on Campus.
We were in further trouble after it was discovered that students and faculty alike had been dabbling in the only kind of snow that ever comes through Exeter. Everyone was shocked that some young people with lots of disposable income and spare time engage in recreational drug use. What was more exciting was the fact that some of the areas that tested positive for the substance were faculty only.
Exeposé accidentally elects two simpletons.
On March 12th we wrote a manifesto for a role we possibly didn't understand. A day later, we were giving a speech desperately trying to convince a room full of people we'd never met that we were a better option than re-opening nominations. Thankfully, we won. With as much jounalistic experience as the Chuckle Brothers (apologies to them if they have some!), we were unaware of quite how difficult and time-consuming the job would be. Regardless, we were thrown in at the deep end, with our first major job being to cover a national party conference.
UKIP's Spring Conference.
In what was a very busy and succesful year for UKIP, their Spring Conference at the Great Hall was an opportunity for them to prove themselves as a serious force in British politics. What entailed was a day of old white people laughing themselves silly at xenophobic humour, Bulgarian extremists and Nigel Farage' boundless wit. By the afternoon, most of the audience had nodded off, and we'd gone home.
Are boobs news?
With people trying to their best to put off revision, an almighty 'debate' took place on Facebook surrounding whether or not The Sun should be removed from guild outlets. It all got a bit heated, with the arguments tailing away from substance to more personal and unnecessary attacks. When it came to the vote,  the turnout was very impressive for University election standards, pulling in well over 2000 votes.
Blurred Lines.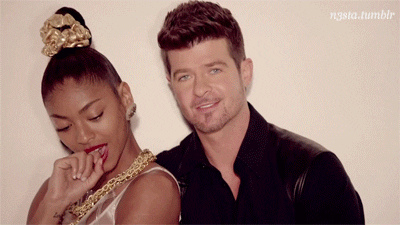 E-E-EDL
The run up to their national demonstration saw tensions rise in Exeter as counter demonstrations were organised and fears of a presence on campus drove many to exclaim, "Ooh-er!" and, "Blimey". The day was largely made up of incoherent ranting and marching about the streets of Exeter with seemingly no real message or purpose. Quite frankly, we were all quite relieved when they all went back home. A shout out to the Exeter Together campaign, which celebrated all things good about Exeter throughout the morning.
So it's been quite an eventful year. Here's to next year. We hope you've enjoyed our coverage throughout the term on all of the major events. Sorry if you haven't. You've only got to put up with us until March and then there will be some new people! Merry Christmas and a happy new year!
James Bennett and Dave Reynolds, Online Comment Editors
Have we missed anything? Leave a comment below or write to the Comment team at the Exeposé Comment Facebook Group or on Twitter @CommentExepose.
bookmark me