It's that time of year again when we've got deadlines, dinners and undoubtedly a diary chock-o-block with upcoming social engagements. Fear not! Here's the essential guide to every party outfit you will ever need this festive season.
The Show-Stopper
You won't fail to turn heads in this matching skirt and top combo, although your friends will be forgiven if they have to shield their eyes. H&M have some great partywear this season and this sequined ensemble is no exception. If you think you're more of a star than the one on top of the tree, then it's the perfect way to say "Look at me!" On the other hand, if you don't want to sparkle too brightly, just opt for one or the other and pair it with a plain black top/skirt.
H&M (Exclusively online) 
Top – £19.99
Skirt – £19.99 
The Retro Robin
This outfit from Topshop is a bit on the pricey side, but students get 10% discount all year round so what better reason treat yourself to an early Christmas present! This beaded Jacket by independent label We Are Cow, is a unique, genuine vintage piece. The only downside to this is that it means it's non returnable, but why would you want to bring this beauty back anyway? I think it looks great layered over this simple gold dress – Demure yet dazzling.
Topshop
Jacket – £35
Dress – £42 (Petite) 
The Sexy Santa
This dress by New Look is simple yet stylish, and the off-the-shoulder neckline just makes it that little bit sexier. Whether you go all out and add a santa hat and stockings, or just glam it up with sparkly accessories, you'll never run out of ideas for how to wear this dress – a definite wardrobe staple. Did I mention it's also a bargain at £22.99? Cheap as chapstick.
New Look 
Dress – £22.99
The Lady Merry
If you're as much of a Downton Abbey fan as me, you'll most surely be highly anticipating the series finale on Christmas day. We might not know who's going to snuff it, but you can still look drop-dead gorgeous in this 1920's style dress. It's on sale at the minute too, so snap it up before it sells out…or get your ladies maid to fetch it for you.
Marks and Spencers 
Dress (Per Una) – Was £59.00 Now £41.30 (30% off)
The New Year's  
New Year's Eve is notoriously the most disappointing night of the year, so why not make it a little more bearable with another stunning sequined number from H&M? If you're in a club you won't even have to try and attract someone for your kiss at midnight, they'll most likely be so dazzled by your attire that they'll come to you.
H&M 
Dress – £39.99
The Glam-bam thank you ma'am 
This dress from Quiz, is perfect if you have an hourglass or curvy figure, as it hugs the body in all the right places. It's similar to the Sexy Santa, but just that bit more glamorous. Pair it with a pearl necklace and a furry white shawl for the perfect Hollywood look. Did I mention students get 15% off as well?
Quiz 
Dress – £29.99 
The LBD
The LBD has become a fashion staple for every occasion, and Christmas is no exception! I love this Scuba Bardot Skater dress from River Island, as it has an elegant neckline but a flowy skirt, which says "I'm ready to party" – making it extremely versatile. Dress it up with sparkly silver or gold accessories, and dance the night away!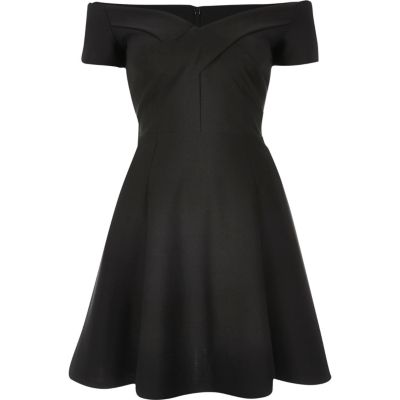 River Island 
Dress – £40.00